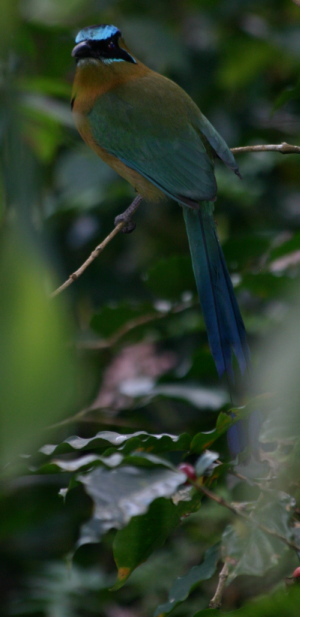 There are so many birds at Selva Negra that even novice birders have an opportunity to identify dozens of species in a single day, thanks to the diversity of habitats on our property.
Selva Negra's virgin cloud forest lies between 1300 and 1500 meters athwart the continental divide between the Pacific and Atlantic lowlands. As well, our coffee plantation is full of fruiting trees that cast shade on our coffee plants. In addition, several wetlands such as marshy ponds around the farm provide additional habitats for birds.
As a result, Selva Negra's bird community is a mix of both Pacific- and Atlantic-slope bird species as well as mountain species whose ranges extend south from Mexico. Take time to review our bird list developed by Cooper Ecological Monitoring, Inc. (the most common species are in boldface).
Birds-part a |
Birds-part b
Add your own sightings to our list! Here's one of the latest, a yellow-bellied Sapsucker (Sphyrapicus varius), contributed by Rob Batchelder of Managua.
"I saw a single individual (female) of this migrant woodpecker on the western edge of the lower pond (near Cabana Gretel where we stayed) just where the paved road passes the pond, ascending the hill up to the restaurant. The time was around 6:15 a.m. on Sunday, January 25. All the other 60 or so species I saw during the weekend are birds already on the checklist."
To take full advantage of your birding experience, consider hiring one of our expert birding guides for the day. Their schedule fills up fast, so we suggest that you contact us in advance of your visit to book their time.