What better way to introduce the children in your life to the wonders of nature than to take them with you to Selva Negra? After a day of hiking, horseback riding, wildlife-watching, nature tours and climbing over the equipment in our playgrounds, bring them to the restaurant where our menu features child-sized dishes and snacks. Watch them fall into a deep, early sleep after hours of fun in the fresh mountain air.
Playgrounds - We've designed our playgrounds with your children's safety in mind and we're meticulous about keeping the equipment clean and in good repair. The main playground is filled with playhouses, swings, see-saws, slides, and even a fire truck and a train. It's within steps of the restaurant's patio so that you can keep an eye on them as they burn off their meals while you linger over coffee and dessert. Several other swing sets are located near our family-sized cabins to keep the kids within eyesight while you sit back on the porch and soak up the scenery, or finish the next chapter of that book!
Take them Hiking - The Las Playitas trail around the lake is one of many that are perfect for tykes. Help them chase butterflies, hummingbirds and frogs (but no touching please!). Skip stones across the surface of a pond, gather a cupful of tadpoles, pick a bouquet of flowers, or just sit down a tree stump and tell them a story that you remember from your grand folks. Don't forget to pick up a nature guide at the front desk.
Horseback Riding - Your children will never forget their first time on a horse ... or the second, or third. Our stable masters know the personality of each of our mounts and will pick one for your child that's especially gentle and fond of kids. Saddle up and ride side-by-side with your children! Or if you prefer, ask a guide to lead the horse while you follow on foot.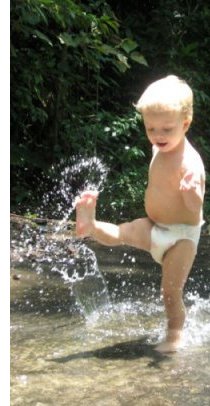 Farm Animals - Our stables are filled with wonderful animals all kids love: donkeys, cows, pigs, chickens, goats, geese, ducks, and the list goes on. Let them see the animals, let them pet the animals, they will learn so much without even noticing it. When at the stables, ask if any newborn animals are available to see. With as many animals as the farm has, you're bound to see some new piglets, a foal, a kid or maybe the arrival of 500 chicks.
Find the Fort - Somewhere in the mountain off the Bavaria Trail is a hidden fort. This is the ideal place for a round of king-of-the-mountain, hide-and-seek, playhouse, and any other game their little minds (or yours) can invent. You never know, you might even find hidden treasures!
Arts and crafts - Make a hat with nature's gifts of twigs, leafs and feathers; build a picture frame from Spanish moss, sticks and cardboard; play pooh sticks on one of our many creeks. Ask for a suggestion list of children's nature activities at the front desk.
Create your own adventure - At Selva Negra, the opportunities for growing closer as a family time are endless.